HyPerformance® plasma systems deliver superior productivity in X-Y, bevel and robotic cutting and marking applications on metal ranging up to 160 mm (6 1/4") thick. The combination of faster cutting speeds, rapid process cycling, quick changeovers and high reliability boosts throughput while dramatically lowering operating costs.
Hypertherm's HPRXD® stainless steel technologies provide superior results from thin to the thickest piercing and cutting applications.
HDi
®
technology brings HyDefinition cutting performance for stainless steel applications from 3 mm (12 ga.) to 6 mm (1/4").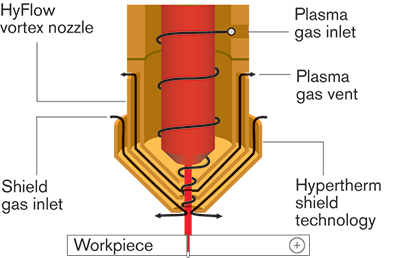 Provides extremely sharp top edge quality, shiny surface finish, and superior angularity with reduced angle variation
Patented PowerPierce technology extends robust production pierce capability to 45 mm (1 3/4") with 400 amps and 75 mm (3") with 800 amps. Combined with a controlled motion process, the technology provides maximum stainless pierce capability up to 75 mm (3") with 400 amps and 100 mm (4") with 800 amps. Liquid cooled shield repels molten material during piercing and cutting to minimize torch damage, and improves shield robustness to reduce downtime and lower operating cost.
| | |
| --- | --- |
| 300 pierces at 50 mm (2") using HPR400XD with PowerPierce technology | 41 pierces at 45 mm (1 3/4"), Competitor A without PowerPierce technology |